Best Liposuction Specialists in the LA Area
---
Schedule a Free SculpSure Consult in Beverly Hills, LA and get
$100 off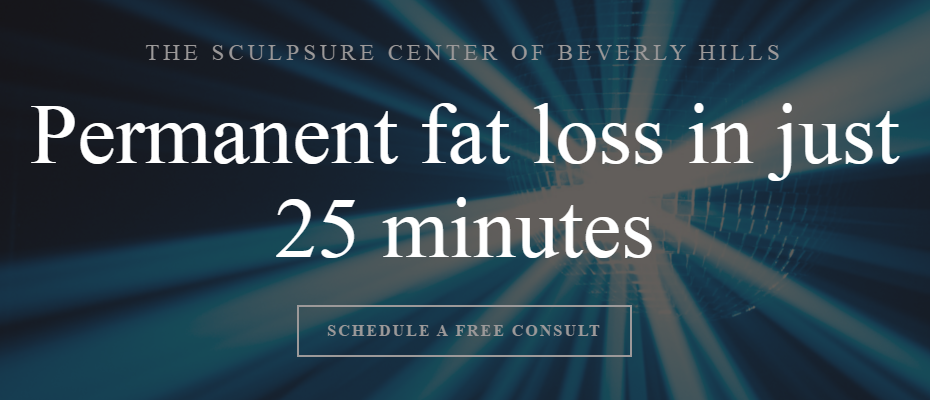 Call 
(844) 452-5476

To Schedule Your

FREE

Consultation
---
Liposuction Of Los Angeles has compiled a list of top rated plastic surgeons that specialize in liposuction. You can review their prices, before and after photos, and any liposuction specials they may have. Just click through to their website or call the number listed for each doctor or practice for more information.
---
Ultra Sculpt Centers
Just Imagine Your Remarkable Transformation That Everyone Will Notice –   A Smoother, Firmer, More Toned & Lifted – Athletic Appearance. Supercharge Your Confidence & Make Yourself Irresistibly Attractive To That Special Person in Your Life!
(800) 605-0449 | 9025 Wilshire Blvd. Suite 202 Beverly Hills 90212
---
Rejuvalife.md
At Rejuvalife Vitality Institute, we offer a wide range of body contouring services in order to help you achieve your goals of living a healthy and beautiful life. Dr. Andre Berger performs the most advanced non surgical cosmetic and body contouring procedures available. With decades of experience, he has the background necessary to deliver the greatest possible outcome so that you can enjoy a healthier, trimmer physique and a happier life.
310-276-4494 | 9400 Brighton Way, Suite 405 Beverly Hills, CA 90210
---
Miko Plastic Surgery
Harvard trained, board certified Beverly Hills plastic surgeon Michael K. Obeng, MD, FACS, was named among "America's Top Plastic Surgeons" by the Consumer's Research Council of America in 2011.  He specializes in cosmetic surgery of the aging face, neck, breast, body, trunk, extremities and genitalia.  Dr. Obeng is among the rare, few surgeons in the world to successfully reattach a limb, and he is an expert in complex reconstructive surgery, hand, and microneurovascular surgery.
310-275-2705 | 435 North Roxbury Drive, Suite 205, Beverly Hills CA 90210
---
David M  Amron MD
David Amron, M.D., Medical Director of Expert Liposuction is a California cosmetic surgeon who specializes in liposuction. In fact, liposuction is the only major cosmetic surgery procedure that he performs! Dr. David Amron, known as the "guru of liposuction", treats patients locally from the greater Los Angeles area and from all over the world who travel to his exclusive Beverly Hills, CA liposuction practice for exceptional body contouring results.
(310) 275-2467 | 120 S Spalding Dr #315, Beverly Hills, CA 90212
---
Justin Rome MD
Permanent fat loss in just 25 minutes. The SculpSure Center of Beverly Hills, Los Angeles is the premier location for non-invasive body sculpting.  Laser the fat away in minutes with no down time, and permanent results. Dr. Rome is an innovative Cosmetic Surgeon who embraces many new technologies in his surgical and non-surgical practices.  In addition to SculpSure, Dr. Rome utilizes other Cynosure lasers including SmartLipo™ (laser assisted liposuction), Cellulaze™ (laser procedure for cellulite), and LazerLift™ (laser jawline and neck contouring).  Dr. Rome also is one of the few surgeons who performs Robotic Hair Restoration.  In addition, he has extensive experience using the CoolSculpting System before switching over to SculpSure™.
(844) 452-5476 | 256 South La Cienega Boulevard, Beverly Hills, CA 90211
---
Liposuction Procedures & What To Expect
Liposuction is one of the most popular plastic surgery procedures in the country next to facelifts. And Beverly Hills is quite possibly the capital of liposuction.  It provides permanent fat removal for those problem areas that just don't respond to diet and exercise. However, to create a beautiful shape that looks natural and even, liposuction must be performed with extreme technical skill and meticulous attention to detail. Our LA surgeons have performed hundreds of these procedures and has had patients from all over the country as well as around the world.
Prior to Surgery
Liposuction is most successful in patients who already have good skin tone and just need help with stubborn fat deposits. It is not a substitute for weight loss. Patients seeking liposuction should already be at or near their target weight. However, by continuing a healthy diet and exercise program after surgery, the results of your liposuction will not only remain; they will actually improve.
Prior to surgery, your surgeon will let you know what you can reasonably expect from your liposuction. They will take the time to listen to all your concerns, study your anatomy, and be direct and honest about what surgery can accomplish.
Procedure
Once your target areas have been determined and your goals have been outlined, the plastic surgeon will come up with a customized plan for your liposuction. Your surgery can be performed under local, general anesthesia or IV sedation will be required – all plastic surgeons are comfortable with all forms of anesthesia.
Small, discreet incisions are made in the target areas. Our surgeons have a special tri-phase technique that they use to remove fat with extremely small cannulas to allow for the most natural and smooth look. She will explain the details of her technique in your consultation. The average liposuction procedure takes about an hour per area.
Recovery
Following your liposuction procedure, you will have some swelling for about two weeks. You will wear a compression garment for 6 weeks to help reduce the swelling and assist in retraction of the skin. Most of our patients are off prescription pain medication in 3-4 days. Returning to a more active job can take up to two weeks, with up to two additional weeks before you can fully resume all of your normal activities. You should stay somewhat active throughout your recovery, gradually building up your activity level over time.
The results of your liposuction should be apparent as soon as your swelling subsides. The small scars take about 12-24 months to fade. We have a rehabilitation clinic in Orange County should you need further assistance.
Schedule a Consultation
Liposuction can transform your body and motivate you to get in even better shape. To find out how this body-sculpting procedure can help you, contact us to schedule your consultation  today.
View our Liposuction Specials for current discounts and deals.
We also specializes in vaginal cosmetic surgery.